kings of convenience - the weight of my words
I'm sort of done with winter now - the snow has melted away and it's become warmer, which is making me long for flowers and sun instead of ice and clouds. So I put together a spring-y outfit and played around with vintage-looking filters in Photoshop.
Oh and I bought this hat yesterday at H&M! I love how everyone looks at you friendlier when you're wearing a hat (no idea why, but it's true!)
I love these tights, but unfortunately I ruined them the very first time I wore them - there's a huge hole in the back. I just can't be trusted around fragile tights.
Of course, I couldn't wear an outfit like this outside. If I wanted to, my getting-out-of-the-door ritual would go something like this: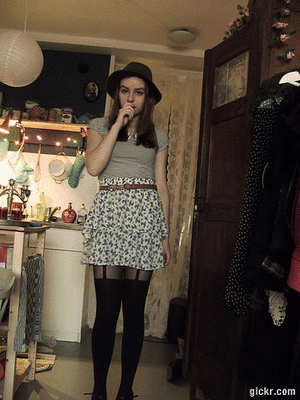 (except that, realistically, I would be wearing two pairs of thick tights and some sturdy lace-up boots. But where's the fun in that?)